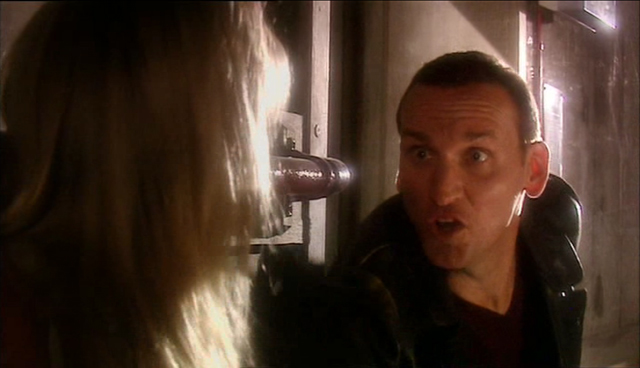 "Run!"
And with that single word, Rose Tyler's life was changed forever, as Doctor Who came storming back onto British TV screens. The first episode of the re-booted Doctor Who, "Rose," first aired on BBC1, 7:00 pm, Saturday March 26th. Over the last 10 years, the Doctor has regenerated three times, and the show's audience has grown exponentially. At the time, no-one knew if it would last beyond 13 episodes. With Series 9 currently being filmed, it seems the Doctor's future is assured.
Of course, we in the US didn't get Doctor Who until later. Some PBS stations picked up Series 1 (as did ours), but didn't re-run the episodes, nor take any further shows. Then the Sci-Fi channel picked it up about a year later and showed the first couple of seasons until BBC America finally took the show (as it should have done in the first place–but hindsight is 20/20). It is now the flagship drama of the BBC on both sides of the Atlantic. A far cry from the show's status when it went off the air in 1989.
Thankfully, the Doctor Who team are not making a big fuss of this anniversary. They celebrated the show's 50th not long ago, and I much prefer to see the show as a continuous series spanning five decades, rather than draw a line in the sand between 1989 (or 1996 to include the TV Movie) and 2005. But it is good to note that ten years since it came back, Doctor Who is still going strong and is in good hands. Here's to many more years to come!
(Trailer made by YouTuber VG934)